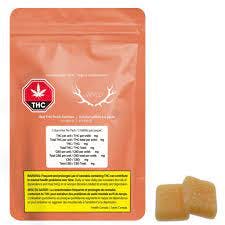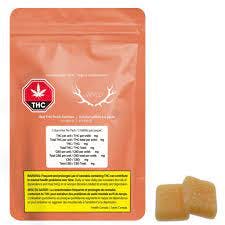 Wyld
WYLD | 5:1 Real Fruit Peach Gummies 2 X
$4.75
Wyld Peach Hybrid Enhanced CBD:THC gummies are a 5:1 product made sustainably with real fruit, botanical terpenes, natural flavours, and compostable packaging. 25mg CBD and 5mg THC per gummy, with two gummies per pack for a total of 50mg CBD and 10mg THC.
Effects
Happy
Clear Mind
Calm
Relaxed
About the Brand
Wyld was founded in 2016 to create best-in-class cannabis edibles using real fruit and natural flavors. What began as three college friends over a two-burner stove is now a best-selling edibles brand.
Wyld has made this journey by remaining independent, and staying true to their vision of a better definition of success. Wyld embraces challenges, tests boundaries, and lives life to the fullest. They have focused on building a strong community of retailers, budtenders, and consumers who all agree on one thing: Wyld Works.
Real fruit. Real flavor. Real quality. That's the Wyld way.
Grab a box today and find out why Wyld is America's top-selling edible!